Jurassic World: Dominion Dominates Fandom Wikis - The Loop
Play Sound
These items were included with Ye Martian Weyfarere. They include:
a menu from the Waldorf Astoria, dated 19??, and is tied to the article that replaced the New York Socialite in this issue. The meal is the same as in the novel Babette's Feast.
a scrap of leather, stamped with the image of the Yale from this issue's Bestiary
one of three cards, printed on one side with a riddle and with an image on the other. At least one of these has been tied to the radio broadcast
a postcard, unaddressed, which reads, "Travel to a place that does not exist, a place you have never been. From there visit Andrew. You will see such sites!"
one or two small gemstones, of various colors and shapes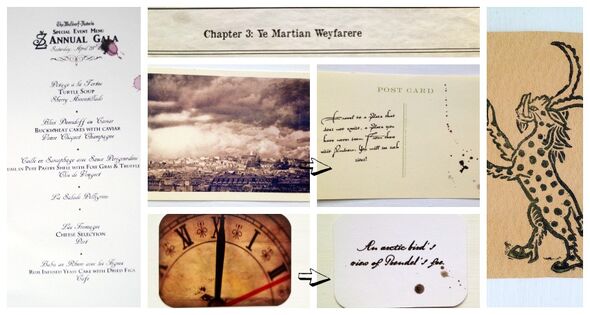 The riddles on the three small cards read as follows:
An Arctic bird's view of Grendel's foe - image of clock
A Danish nobleman with an unlucky name - image of KiY sigil
The British King's take on a story told by a man with cool hand - image of a man tied to a chair
Further clarifying clues were posted to the Sitting Room by Bernard. In the same order as the above, they read:
Two lessons must be learned to track down a hero. Firstly you are looking for the best dressed birds out there, and secondly the name you want sounds obscurely like you are howling at an auto-immune disease.
If you are on the hunt for a very large dog, it is important to know that theater folk believe his Scottish counterpart is far less lucky.
If you are looking for a man who's handshake gives you the shivers, it is vital you determine his capacity for ovum consumption.
Of Note:
The images on the three cards all seem to be drawn from the MPC site, where they are used to promote experiences.